Surface Spray
POSSIBLY THE BEST STAINLESS STEEL AND GLASS CLEANER IN THE WORLD. One spray, one wipe, no streaks, no marks – just clean and shine. Just as effective on most other surfaces.
---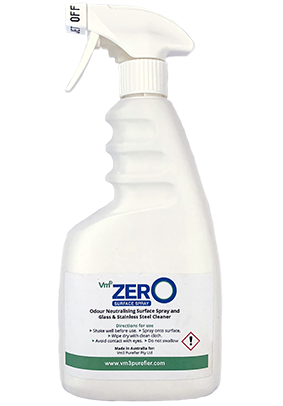 Clean using a quality product
Non toxic chemicals and safe to use
Environmentally friendly
Cost effective
Easy to use
Treats unpleasant odours including food, cooking, wine, faeces, garbage, smoke, fires, decomposition of animal and vegetable matter, water damage, animal areas and most other problem odours
For maximum effect use in conjunction with VM3 ZERO ODOUR ELIMINATOR PADS to achieve positive long term results.